Do you know sometimes how tricky it is for men and women to buy some consumer products. There are hygiene products, clothing, food, vehicle, liquor, financial services, general contractor, mechanics, and so on. As you have realized at your local retail stores, ecommerce stores…there's a lot of choices.
A lot of variation of the same item that has the same purpose. A lot of mashup review information. Mashup of business values. Mashup of niches. A mashup of payment methods. Mashup of reviewer and their testimonials. Questions about if your information will be safe & secure? Should you have it shipped or pick it up?
It makes for stressful, frustrating, confusing, friction quagmire process…if you don't have a clear understanding of what you want or need. Choices can be good but there's a point when buyers just walk away.

MBHVIM Team
The B2B world is no different however because most businesses hate getting things wrong (cause it can be costly) they have processes. Some may call it a vetting process.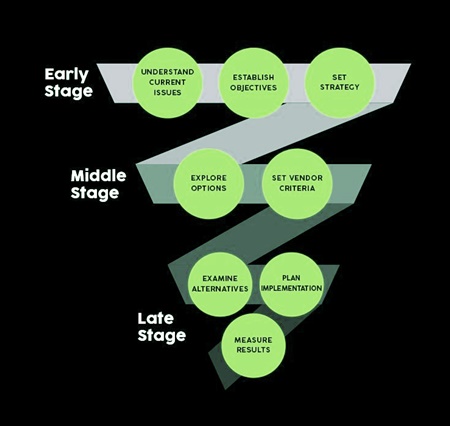 So here's the thing about choices, confusion, & friction in B2B & B2C:
Pre-Purchase
Did you know that 89% of business buyers are looking for a partner. Not a vendor. Not a supplier, a partner?
Did you know If your buyer is not being shown content that meets their needs or addresses a problem, they will move on?
Did you know many ask if you understand them, their industry, their values, etc.?
Did you know their own research will inform their perspective of your company?
Did you know tailoring your social media posts and advertisement to segmented audiences gets a better ROI?
Did you know your team must be proactive to find out trigger events about prospects?
Do you know some company trigger events like layoffs, hiring, bankruptcy, financing, funding, budgets, new management, partnership, etc?
Do you know when's a good time to approach prospects and when to just nurture?
Do you have ways to revisit past interactions from all channels?
Do you know how to stay relevant?
Do you have systems that create clueless sales, marketing, customer services personnel?
Do you know in B2B, buyers prefer one consistent & clear buying process?
Do you share information, show deadlines, access agreements, and work together like a efficient sports team?
Do you know competitor could be stealing your prospect because you took your eyes off the ball?
Do you automate the production of approved quotes, and documents?
Do you know you can create ways to let the buyer qualify themselves by removing friction from the equation?
Making Things Unnecessarily Complicated
Every additional choice is expected to create extra friction
Turning an easy simple purchase to a headache
Nervousness / anxiety in the purchasing process sometimes is a bad sign
Complication of the information and instructions
The website and / or mobile app is poorly designed for navigation
Do you have too many complicated fine-prints or terms for non-complicated items?
Is the payment experience a pain?
Synergy
Inability for your organization to keep the online & offline worlds in sync
Addressing Problems
If anything goes wrong how do you fix it?
Are there contingencies in place?
Are you aware of the internal battles many buyers have a.k.a Add-to-Cart Anxiety?
Do you have methods to reassure buyers along the shopping journey?
Are there methods to let people try your product at no cost / low cost?
Do you have a simulation or AR / VR that allows them to visualize the outcome of purchase?
Do you have a good organized Q&A video, FAQ and support page?
Pricing & Payments
Are your pricing clear and the final price is transparent—includes things like setup fee, shipping and delivery fees?
Are you good at estimating your quoted price?
Are there options to pay for different items with different methods?
Is payment flexibility something to consider (buy now/pay later)?
Have you offered purchase incentives like coupons?
Do you have option to collect payment via payment platforms like PayPal cause not everyone wants to hand over finance detail to a not too any company?
Trust Issues
Have you failed to pre-build elements of trusts?
Do you have clear value propositions or differentiation?
Do you state how you use and secure information?
Post Purchase Experience
Do you know sales, marketing, customer service, etc. jobs are not done after the sale?
Do you know people want to be rewarded for their loyalty?
Do you know it's cheaper to keep your customers than find new ones?
Buyers want to know you'll be responsive if there's ever a problem, or concern.
Do you know they want to feel like being part of a community?
Do you communicate and update them?
Do you know you could arrange a movie night or sports game night for customers?
Did you know your organization doesn't have to lead the conversation in the community, it just needs to empower the community for the benefit of the whole?
Causes of Confusion
Not Being customer-centric. Basically not putting yourself in your customers' shoes
Too much options. Not only in products but could be in Calls to Action (CTA)
Not checking with target on what is clear and what is confusing.
Not keeping track on the customer journey
Packaging
Word choices
You naming and products seems too similar to others
Billing surprises
Not maintaining brand or promise consistency
Mixed messaging
Font style
Non frequent brand audit
Rebranding without informing
And more….
Wow, hopefully there were some quick pointers that have you thinking about your B2B sales & marketing.
Sometimes we get caught up thinking it must be good if it works so far however failure to realize that it could be better is just dumb. All it takes is just keep finding ways to be more efficient.
When it comes to ROI, it just takes longer when friction exist / becomes No ROI.
Quick Take Away To B2B Frictions
Addressing friction, confusion in your B2B sales and / or marketing activities can be resolved over a lunch break in some cases and there are those that require a overhaul of your workflow, tools and your personnel.
There are those that require ripping everything apart and just start over.
Remember to respect your prospects and customers' attention and time by making it worthwhile for them to consume your content, conversations, demos, trials, events, podcasts, value proposition, etc. 'Cause they have plenty of choices.
You want to prioritize your buyers' needs, gradually they will become drawn to you and start giving clear buying signals.
Another thing to think about is to start talking to your prospects and customers outside of a sales conversation and just listen like a consultant to find out the frictions, issues. pain points, the triggers.
***Interested in finding out a quick overview of BJM (BJ Mannyst) Marketing Services, overview and how we can assist your service business?